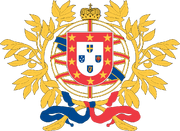 The Rush Ministry is the 4th ministry since independence. The ministry was sworn in by HM The King on the 11 March 2008. It is the longest serving ministry since independence and also the most stable of the post independence period thus far.
Cabinet Portfolios
Edit
See also, Cabinet of Calaré .
The following are the senior ministerial posts, known as cabinet portfolios:
Prime Minister of Calaré - The Rt. Hon Mr Nathan Rush TD
Deputy Prime Minister - Mr Brock Inglis
Minister for Foreign Affairs - Ms Sofia Ascott TD
Minister for Finance and Deregulation - Mr Greg Louganis TD
Minister for Parliamentary Services - Senator Mrs Helen Carter-Jones
Minister for Veterans Affairs - Senator Mr Antony Jackson
Minister for Tourism and Sport - Mr Joshua Wallace TD
Treasurer - Mr Dale Worthington TD
Minister for Resources, Energy and Trade - Senator Mr Owen Levine
Minister for Innovation, Industry, Science and Research - Senator Mrs Fiona Grant
Minister for Infrastructure, Transport and Regional Development - The Hon. Mr Michael Ware TD
Minister for Indigenous Affairs - Ms Alison Gates TD
Minister for Immigration and Citizenship - Ms Anna Li TD
Minister for Human Services - Senator Mr David O'Malley
Minister for Home Affairs and Local Government - Mr Colin Paige TD
Minister for heritage and the Arts - Senator Ms Amelia Grieve
Minister for Health, Ageing and Disabilty - Ms Kate Ambrose TD
Minister for the Environment and Water - Mr Brendan Daskalakis TD
Minister for Employment and Workplace Relations - Mrs Elisabeth Mc Farlaine TD
Minister for Education and Training - Mr Nathan Sutton TD
Minister for Community Services and Housing - Ms Peta Hunt TD
Minister for Climate Change - Senator Ms Zianna Fury
Minister for Broadband and Communication - Senator Mrs Louise Spicer
Attorney- General - Mr Tobias Murphy TD
Minister for Agriculture, Fisheries and Forestry - Mr Michael Phillips TD
Special Minister of State - Ms Susan Hutchinson TD
Associate Ministries
Edit
In order to assist in the administration of the portfolios, the Prime Minister may appoint associate ministers to oversee the operation of the larger or special departments within a ministry:
Associate Minister for County and Cultural Affairs (Dept. of Home Affairs) -- Ms Lucy Taskin TD
Associate Minister for Economic Affairs (Dept. of Finance) --
Associate Minister for Emergency Services (Dept. Home Affairs) -- Mr Kriss Deeble TD
Associate Minister for Internal Security (Ministry of Justice) -- Ms Skye Valentine TD
Associate Minister for Media and Broadcasting (Dept. of Communications) -Ms Samantha Worthington TD
Associate Minister for Repatriation (Dept. of Defence) -- Mr Jonathan Fritz TD
Associate Minister for Defence Materials (Dept. of Defence) - Senator Ian Mc Kenzie
Parliamentary Secretaries
Edit
Each minister of state may also have a Parliamentary Secretary to answer questions and table reports on behalf of ministers when they are unable to be present in the house:
Parliamentary Secretary to the Prime Minister -- Mr Sven Goranson TD
Parliamentary Secretary to the Ministers for Finance and Foreign Affairs -- Mr Jack Plenty TD
Parliamentary Secretary to the Attorney-General & the Minister for Home Affairs - Ms Katy Bedell TD
Parliamentary Secretary to the Ministers for Defence -- Mr Ben Burdon TD
Parliamentary Secretary to the Ministers for Health and Education -- Mr Zachary Leminos TD
Parliamentary Secretary to the Minister of State for Transport -- Mr David Hurley TD
Parliamentary Secretary to the Ministers for Agriculture, Resources, Energy and Trade, and Innovation and Science -- Mr Mark Reynolds TD
Parliamentary Secretary to the Ministers of State for Human Services and Community Services and Environment -- Senator Trevor Jones
Ad blocker interference detected!
Wikia is a free-to-use site that makes money from advertising. We have a modified experience for viewers using ad blockers

Wikia is not accessible if you've made further modifications. Remove the custom ad blocker rule(s) and the page will load as expected.